Happy St. Patty's Day From Our Team To Yours!
Color has been known to impact people's behaviors and decisions and that impact can be harnessed through design to evoke emotions and actions. The power of green, a dominant color in nature, can be used by designers to symbolize natural elements, growth, optimism, stability, prosperity, wealth, and good fortune. In design, shades of green bring balance, harmony, and calm and are considered easy on the eyes. Green also tends to make you feel refreshed and inspires positivity. From green rooms to green screens, green is a color used in abundance in the design world from branding to interior design and fashion. Some of the most well-known brands that have primarily green branding are Starbucks, Whole Foods, Perrier, John Deere, and Land Rover. The greens of these logos play on the colors' reference to nature, growth, and freshness. Other darker greens used by banks and financial institutions draw on the power of green to evoke a sense of abundance, stability, and security. In short, green is a good color. Green means go, going green is good and green thumbs come in handy, but most of all we are thankful for 4 leaf clovers, Lucky Charms, and the luck of the Irish!
Some Of Our Designers Weigh In On The Color Green

Charlie, Chief Operating Paw-fficer in Charge, is no expert on color and design, but she feels strongly about the color green and wanted to weigh in. Charlie assures us nothing is better than the green of grass! As Charlie likes to say, "the grass is always greener," which is why she likes to thoroughly inspect everyone's yard.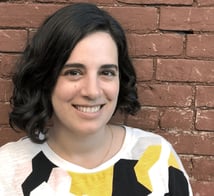 Senior Experience Designer Chen loves the playful and fresh shade of mint. Mint makes us think of things like spearmint gum and mint chocolate chip ice cream, mojitos, and Andes Mints! Oddly enough, Chen just loves the color, the taste, not so much, or that is she feels it has no place in ice cream or chocolate. This cool-toned shade of green is crisp, clean, and vibrant. It is easy on the eyes and embodies creativity and lightness.

Associate Designer Megan says pastel green = the best green. Pastel green brings visions of springtime, things in bloom, and hippity hoppity little bunnies. This light and airy shade has us embracing nature and longing for a breath of fresh air and sunshine. Pastel green is also a color that is emotionally tied to safety and well-being. You'll often find this shade of green in health and beauty products.

Design Director Mike feels whether any color works or not is heavily dependent on all the other colors in the image and the context it is used in, but it's hard to beat a nice bright citrusy, lime green popping off a dark shadowy background. Say hello to confidence, high energy, and creativity. It's also got us reminiscing about Body Glove circa the 1980's.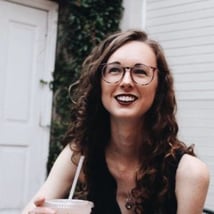 UX Director Tiff has a split green personality. She has equal love for the shades of sage and emerald. Sage green expresses wisdom and experience as well as communicates a sense of peace and harmony or to be one with nature. On the flip side, emerald is a rich jeweled toned hue that evokes feelings of spiritual awareness including love, hope, healing, and fertility.
We're business-minded designers that enjoy using design to solve the big problems that drive revenue. Our design process starts with getting to know the product and the user on a personal level. Some people call it user-centered design, we call it common sense. Our services range from research to visual design. We craft experiences for intent-rich moments when decisions are made, preferences are shaped, & products are purchased.
GIVE US A TRY.
Have a project you'd like to talk to us about, or even just want to say hi? Don't hesitate to reach out! We can help with all of your web, mobile, CRM, SEO, SEM, product and branding needs.