Stop! Don't look at any more reporting dashboards until you've first identified the questions you want to answer!
While at HubSpot's Inbound 2019 conference last month, our team soaked up so much quality digital marketing info!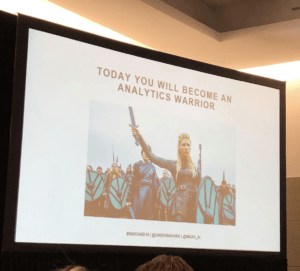 One of our favorite sessions dove into one of the facets of digital that tend to scare marketers the most, analytics. We, however, are now officially analytics warriors 🙂
Analytics isn't about simply creating stunning data visualizations, it's about identifying & progressing primary business goals for your clients. So, before you deep dive into crunching the beautiful metrics & numbers, make sure you take a step back and think about the big-picture business goals that your data is working to progress!
Let's break down 3 of the most common business questions that analytics, HubSpot analytics specifically, can answer:
Conversions: Take a moment to think about your sales funnel / business conversion goals, then dive into the world of Hubspot Analytics Tools! The most helpful reports for Conversion Reporting can be found by following this path in your HubSpot dashboard: Reports > Analytics Tools > Traffic Analytics OR Campaign Analytics OR Events OR Website Analytics
These reports are the place to start to measure, monitor & optimize your landing pages, blogs, CTAs, campaigns & more
Engagement: Event tracking is the key to monitoring content engagement. You can set up tracking on various CTAs on your website, ie: PDF download buttons, event sign-up links, eBook click-throughs & more. The trackability options for engagement are almost endless!
Revenue: Campaign tracking in HubSpot makes tracking ROI for your various marketing campaigns delightfully easy. Collect all your marketing assets (ie: blogs, landing pages, CTAs, UTM links, etc.) under the umbrella of a Campaign to identify all the ways your marketing campaign affects users in your sales funnel. (psst — check out how we increased our client Shockwave Medical's leads by 400% utilizing these tools!!)
The world of analytics spreads far & wide, but make sure to keep your business goals front-of-mind when working with beautiful bunches of data!
Blog based off of a Hubspot #INBOUND19 seminar by @GabeWahhab.
Tiffany Scott — Digital Strategy & Experience Design
Tiffany has a unique combination of skills in both data & design. She's spent her career in marketing agencies: working on a full spectrum of projects from UX design, to technology to digital campaign strategy. Her client/vertical experience includes local retailers, e-commerce businesses, multiple b2b companies & healthcare + medical technology corporations. Tiffany spends her days at XDS working on web UX projects & optimizing digital campaign strategies. While she's not working, you can find her foraging for cool party parrot gifs, or trying to convince her cat to take a long walk on the beach.