With the annual AdobeMAX conference going virtual in 2020, the XDS design team took time to participate in seminars, break-out sessions, and general online merriment that comes with a major global design conference – cheers to a bit of normalcy added back into 2020! We design folks can't wait to keep pushing our work even-further with what we've learned.
Deborah
This year has been a challenge for everyone. Adobe MAX reassured me that my highs and lows followed that of other creatives. Many spoke of the isolation and a complete rethink of a team structure. Remote work is now the new normal and it's great to see folks making it work. This made me think about design on a more human level: How do we problem solve as designers for this new challenge? How do we keep our spirits up? How can we remain connected when we only see faces on Zoom? There are some great updates to our favorite products that we all got excited about together. We became inspired by incredible creatives and we keep the discussion going within our own team.
Tiff
AdobeMAX was a welcome interruption to my quarantine-routines; it felt beyond wonderful to feel a part of the larger Design community in a safe & accessible manner. I appreciated the ability to pause & take time to focus on: honing my software knowledge, learning about product updates, & simply soaking up the ~ virtual ~ presence of a diversely & seemingly-divinely curated group of artists.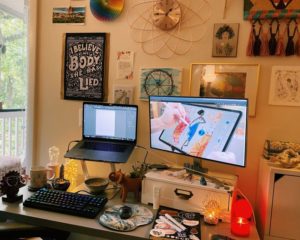 Chen
AdobeMax brought so much art and inspiration from around the globe into my little corner of the world. In these tough times of isolation it was great to be able to attend such a major design event from home (and one that I and many others might not ordinarily have had a chance to attend) and feel connected to so many amazing creatives, plus watch along and discuss with my XDS design teammates. I loved how many of the speakers sought out collaborations to stay motivated and how some used their skills and platform to address the issues of the day. The new features in XD, Illustrator, and Fresco were particularly exciting to me as a digital designer and as an artist. I can't wait to incorporate the new features into my work process and to continue learning and growing.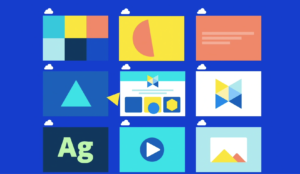 Hannah
The unveiling of all the new features of the Creative Cloud at AdobeMax gave me a lot to think about in terms of what is possible. My horizons are broader as well after attending a few of the seminars to get an in-depth look at how far you can push your design work between multiple programs, some of which I've never used before. Bonding with coworkers over our passion projects we're now inspired to create, chatting about the familiar faces at Adobe Max, and learning more about the programs we each use in different areas of the design process made this a very special event that has me looking forward to next year already!